Introduction
Concrete beams are the most important structural element on a concrete frame building after its columns. Beams support the weight of the concrete slabs, roofs, and other elements of the structure. However, beams can be prone to cracking due to several factors such as overloading, vibration, thermal expansion, concrete shrinkage, corrosion of steel reinforcement and construction deficiencies.
It is important for facilities managers and its owners to recognize the different causes of cracks in reinforced beams so that they can take appropriate preventive measures or repair them if necessary. Repairing concrete beams requires a moderate to high level of expertise. Ensuring their integrity is vital to safeguard the lives of occupants and enhance the longevity of buildings.
It is natural to feel concerned when cracks start to appear in these structures. This post presents various factors to consider regarding the presence of cracks in concrete beams, as their causes and subsequent treatment methods can vary.
Understanding Reinforced Concrete Beams
Reinforced Concrete beams are structural elements composed primarily of concrete and steel reinforcement. Concrete and steel reinforcement work together to provide the multiple properties required of a beam to work properly transferring the loading it receives to other beams, walls or columns which in turn bring the loads to the foundation or seismic resisting elements (during earthquakes).
Reinforced concrete beams come in several sizes, typically measuring between 6 to 18 inches width and 12 to 24 inches high, depending on the load they need to support. Large buildings often require larger dimensions.
Cracks on beams can appear for a variety of reasons; yet it is essential to identify the source of cracking to determine if it is a regular maintenance item or a more serious structural problem.
Causes of Cracks in Reinforced Concrete Beams
Poor quality materials. Concrete with low compressive resistance, inadequate concrete cover or too weak a steel reinforcement grade can result in cracks in the beam.
Inadequate curing of concrete. Too rapid drying of the concrete surface can cause shrinkage, resulting in cracking.
Weakness of the beam. A beam may be or become weak or have limited capacity in relationship to the strength of its concrete, the amount of rebar, the quality and the condition of the rebar. Also a beam can weaken due to its deterioration of the concrete or section loss, most commonly related to concrete corrosion.
Overloading. When beams are subjected to loads beyond their capacity, they become vulnerable to stress and may develop cracks. Overloading can occur when excessive weight is placed on a space being supported by it, such as using a regular office room repurposed for a library or storage. Even cramming too many people into a room can strain the structural system. Allowing heavy vehicles in areas designated for normal vehicles can also lead to overloading. Additionally, seismic events like earthquakes have the potential to far exceed a beam's capacity, resulting in cracking.
Environmental factors. Extreme temperatures, moisture or humidity can cause concrete to expand and contract, resulting in cracks. In Puerto Rico, the most common environmental factor affecting concrete beams is the atmosphere which is high in salts or chlorines combined with limited concrete cover or limited concrete permeability allow the moisture to seep into the reinforcement and start the corrosion process.
Impacts by its users. There have been instances where users have routed HVAC conduits, electrical conduits, plumbing, and other utilities through beams, resulting in improper cutting of their reinforcement at incorrect locations. These scenarios not only compromise the strength of the beam but also alter its configuration, and in some cases, completely negate its intended purpose.
Cracks Related to Loading Conditions
Inclined cracks near its supports.
Type:
Shear Crack.

Typical Causes:
Overloading or limited shear reinforcement.
Cracks under the beams near the middle and sometimes going up on the sides.
Type:
Flexure or Bending Crack.

Typical causes:
Overloading or limited flexure reinforcement.
Concrete "Popping Up" on top of a beam near the middle.
Type:
Compression failure in beams
Typical Causes:
Overloading. Too much flexural reinforcement.
Crack Related to Environmental Conditions
Horizontal or vertical cracks. Delamination of concrete or exposed rebar.

Type:
Reinforcing Steel Corrosion
Typical Causes:
Exposure to corrosive environments.
Concrete with contaminants.
Concrete with high porosity (permeable)
Contaminated rebar during construction.
Limited or little concrete cover.
Cathodic reaction with other metals.
Solutions for Cracks in Reinforced Concrete Beams
Regular inspection and maintenance is essential to identify any cracks or weaknesses early on. The use of non-invasive techniques such as visual inspection, and sounding suspicious areas can help in identifying possible issues.
Implementation of proper repair or reinforcement methods. Knowledge of the cause of the failure or need for reinforcement is indispensable for the selection of the proper repair or reinforcement method and technique. Here are various techniques applicable for each case.
Cracks Related to Loading Conditions
Type:
Shear Cracks

Common Methods:
Crack Injection. (To restore)
Fiber Reinforced Polymers. (FRP's)
Near Surface Mounted Reinforcement.
Type:
Flexure or Bending Crack.

Common Methods:
Fiber Reinforced Polymers. (FRP's)
Near Surface Mounted Reinforcement.
Steel Plates
Type:
Compression failure in beams

Common Methods:
Case by case with a structural engineer.
Crack Related to Environmental Conditions
Type:
Reinforcing Steel Corrosion
Typical Causes:
Corrosion removal.
Concrete and Reinforcing Steel treatment. Specialty repair mortars. Sacrificial Anodes.
On a side note. Supplementary Structural Steel can be a solution to many concrete beam repair or reinforcement issues. Our major concern is the limited compatibility of the structural steel with the concrete. Structural steel requires more strain, bending, compressing or displacement to structurally engage than structural concrete. Thus an improperly placed structural steel reinforcement may allow the concrete structure to crack further before engaging structurally.
Addressing environmental factors. Certain environmental factors are inherently unchangeable. For instance, a marina pier consistently hovers merely inches above the water, while relocating a hotel or building near the coastline proves unfeasible. However, there exist techniques to enhance the longevity of structures exposed to such environments. The most prevalent methods include cathodic protection, neutralization chemicals, and waterproofing. It is advisable to seek professional advice to determine the most suitable approach for your specific situation.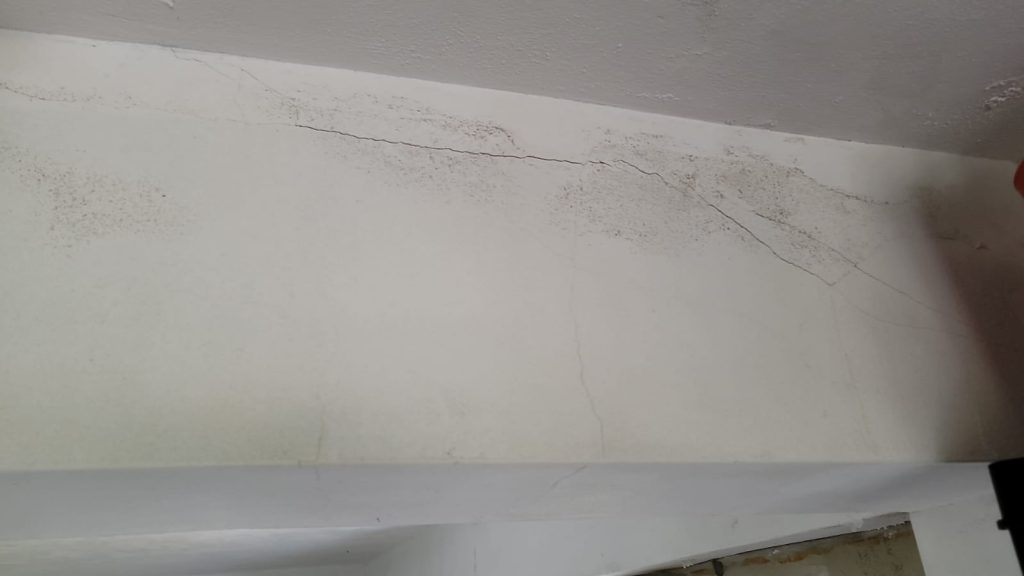 Conclusion
In conclusion, the appearance of cracks in concrete beams is typically caused by a variety of factors including load stress, environmental conditions, and improper construction methods. Quick identification and repair are crucial in order to prevent further complications and potential structural failure. Adopting preventative measures, ensuring regular maintenance, and seeking professional expertise from organizations like Nexo Técnico can greatly assist in mitigating risks, prolonging the life span of your structure, and guaranteeing its safety and stability.
Awareness of the signs of damage, such as visible cracks or structural weaknesses, is the first step in preventing minor issues from escalating into serious problems. Regular maintenance and inspections, ideally conducted by knowledgeable professionals, are crucial in identifying potential problems early on. This proactive approach can help avoid costly and extensive repairs in the future. Moreover, preventative measures such as using high-quality materials and adhering to proper construction methods can significantly increase the longevity of your structure.
Serving Puerto Rico and the Caribbean for everyone requiring professional assistance for your facilities maintenance and repair needs, Nexo Tecnico is at your service. Our team is highly skilled and knowledgeable in providing exceptional solutions to effectively address cracks in concrete beams and prevent further damage. Contact Nexo Técnico today and let us help you maintain your structures, ensuring they are safe, secure, and built to last.