Seismic Damage Repairs and Improvement
Seismic-Resilient Structural Repair and Reinforcement in Southern Puerto Rico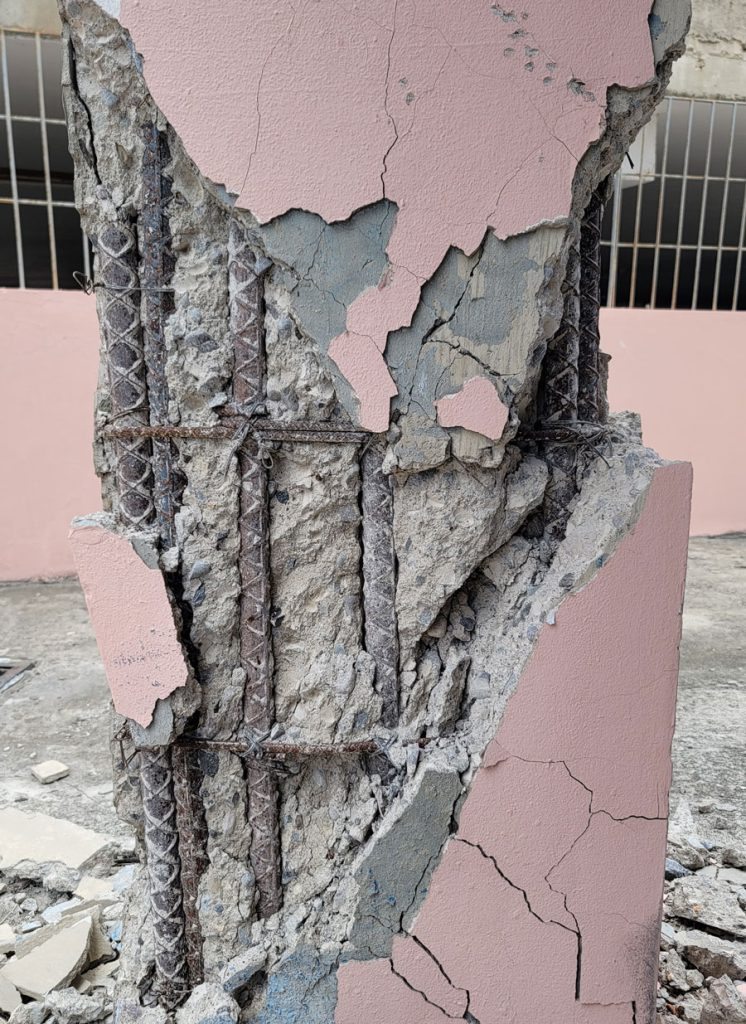 Project: Seismic-Resilient Structural Repair and Reinforcement of a Concrete Column impacted by the January 6, 2020 earthquake in Southern Puerto Rico.
Challenge: Restore and reinforce a significantly damaged concrete column, improving its capacity to withstand future seismic events.
Result: Successful project completion with a reinforced structure showcasing improved capacity than before the earthquake.
Our challenge was to restore a significantly damaged concrete column whose core was considerably fractured due to the seismic event. We not only accomplished the task but also improved the overall column capacity to withstand future seismic events.
Our project started with shoring – a method employed to temporarily support the structure, ensuring the safety of the building and the team, as well as enabling load transfer to the newly repaired column. This proactive step mitigated potential risks associated with the instability of the damaged column.
For the restoration of the column, we utilized structural mortars to restore its original geometry. The purpose of this process was to provide a solid foundation and to ensure the physical integrity of the column during and after the repair work.
One distinctive feature of our approach was the utilization of epoxy injections, a method often used for cracks, but in our case, employed to bind the damaged interior core of the column. This technique allowed us to restore the column's integrity without the need to remove its damaged nucleus. This approach, though technical in nature, can be understood as filling a broken vase with a strong adhesive to bind the pieces together, making it whole and strong again.
Post restoration, we wrapped the column with carbon fiber, a material known for its high-strength and lightweight properties. This process reinforced the column, helping it maintain stability during potential seismic events, thus offering an additional layer of protection to the structure. Think of it as wrapping a fragile item in bubble wrap before shipping it – the bubble wrap absorbs the shocks and keeps the item intact.
Finally, with the reinforced structure in place, exhibiting better capacity than before, we carefully removed the shoring. This marked the successful completion of our project, leaving behind a more resilient structure capable of withstanding seismic events, better than it ever was before the earthquake.
At Nexo Tecnico, we leverage our extensive experience and innovative techniques to provide solutions that not only resolve immediate structural issues, but also add value by enhancing the structural longevity of your buildings. If you're an engineer, building administrator, or an individual interested in understanding more about our work, feel free to reach out to us.
Our Engineering and Professional processes solve your structural problems the right way. Find out more!